VENTURA, California – The County of Ventura's Environmental Health Division (Division) advises the public against consuming food and beverages made or sold by street vendors that do not possess a valid health permit.
Food trucks and food carts that operate with a health permit are expected to follow food safety laws and are subject to routine health inspections by the Division. These vendors will have an identifying sticker issued by the County of Ventura on the vehicle or cart that looks like this: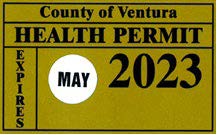 The Division is seeing an increase in unpermitted food sales from food carts and pop-up food stands throughout the county. Many unpermitted vendors are coming from areas outside of Ventura County. These vendors are unfairly impacting local vendors who have obtained their licenses and training to do business in Ventura County.
Consuming food from vendors that have not obtained a health permit pose a serious public health risk to residents and visitors in Ventura County. Such vendors often possess unsafe makeshift equipment that do not follow proper food safety protocols and handwashing practices.
If you think you or someone you know got sick from food, please report it, even if you don't know what food made you sick. Reporting an illness can help public health officials identify a foodborne illness outbreak and keep others from getting sick. Please call (805)654-2813 or file a complaint report at https://eco.vcrma.org/#/home.
For information regarding the Food Safety Program at the Environmental Health Division, please visit https://vcrma.org/en/consumer-food-protection